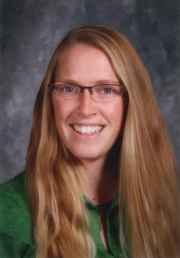 Howard Hanna Holt Real Estate is pleased to welcome Licensed Sales Associate Brianne Fadale to the sales team at their Lakewood office.
Fadale is beginning her Real Estate Career at Howard Hanna Holt after working as a Special Education Teacher. She holds Master's degrees in Special Education and Secondary Education from the University of Edinboro as well as a bachelor's in sports administration from the University of Louisville.
"We are happy to add Brianne to our Lakewood Sales Team," said Broker/Owner George (Pete) Holt. "She is a tremendously positive individual and we look forward to helping her develop as an agent."
Originally from Vermont, Fadale originally came to the area for a job with the Jamestown Jammers at the age of 22. After spending a summer, she knew the community was somewhere she could see herself building a life.
When asked what sets her apart from other agents, Fadale said, "As of mother of two young boys and someone with experience in Special Education, I can appreciate and am sensitive to the many demands of life. I am flexible and dedicated to meeting each client's personal needs."
"Brianne has the kind of bright, friendly, and communicative personality that customers love," said Sales Manager Steve Holt. "She's hit the ground running and immediately started putting deals together."
For all of your real estate need please contact Brianne in the Howard Hanna Holt Lakewood/ Jamestown office at 305 East Fairmount Avenue at 716.484.4040 or by email at briannefadale@howardhanna.com.
Chautauqua County-headquartered Howard Hanna Holt Real Estate (howardhannaholt.com) offers comprehensive residential and commercial real estate sales, leasing and related services, including real property appraisals, property management, development services, vacation property rentals and traditional rentals. Founded in 1983 by the Holt family, the privately owned affiliate of Howard Hanna Real Estate Services has grown substantially in the past decade, with offices in Fredonia, Lakewood, Mayville, and seasonally on the grounds of the Chautauqua Institution.

Howard Hanna Real Estate Services is the #1 real estate company in Pennsylvania and Ohio, and ranks nationally as one of the four largest real estate companies. The company specializes in residential and commercial brokerage service, mortgages, closing and title insurance, land development, appraisal services, insurance services, corporate relocation and property management. With 170 offices across PA, OH, VA, MI, NY, WV, NC and MD, more than 5,700 sales associates and staff are guided by a spirit of integrity in all aspects of the real estate process.