(January 21st, Westfield NY)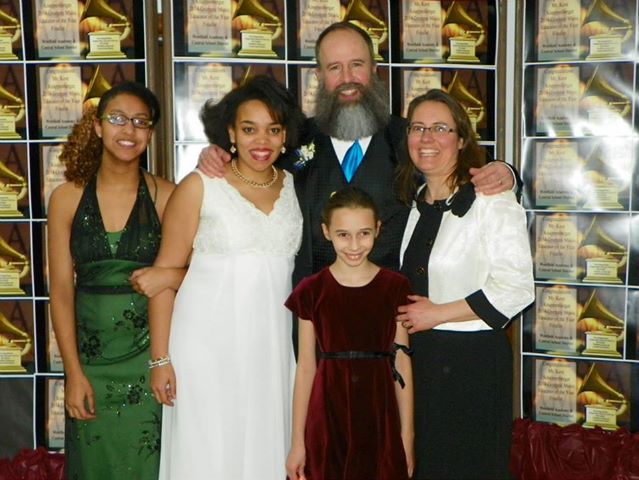 Students and faculty at Westfield Academy and Central School (WACS) had a special surprise when music teacher Kent Knappenberger was announced live on the CBS Morning show as the inaugural winner of the first annual Grammy Music Educator award. A special assembly was called this morning to announce it to the students.
Knappenberger was chosen out of 30,000 nominations for the award and will be flown to Los Angeles to accept the award during the Special Merit Awards Ceremony and Nominees reception to be held later this week. He will also receive at $10,000 honorarium.
The criteria for selection listed on grammyintheschools.com states that candidates were evaluated based on demonstrated evidence that they: have made a measurable difference in the lives of students, have made a significant and lasting contribution to the field of music education, are exemplars of the best in the field, have shown a commitment to the broader cause of maintaining music education in our schools, have made a significant impact on their school and community.
Knappenberger has been serving the Westfield Community as a music teacher and choir director at Westfield Academy and Central School for 25 years. Kent is a graduate of Mayville High School. He holds a bachelor's degree from the State University of New York at Fredonia and a master's degree in music education, harp performance and literature from Eastman School of Music, and is a member of the National Education Association. Knappenberger resides in Westfield with his wife and children.
Congradulations to Kent and Chautauqua Counties other fine educators and thank you for giving us one more reason why people should move to Chautauqua County. I want more information on Chautauqua County Schools
Editors Note: As a former student of Kent's, I have a personal interest in this story as do most people who have been around him. Beginning in middle school, I was under the direction of Kent for numerous groups both inside and outside of the school. My younger brother and sister were also students of his. For my siblings and me, Kent is more than a former-teacher; he is a trusted advisor and friend. While I can cite the musicals I was in or instruments he taught me to play, I am most grateful to him for showing me and countless other students that with hard work, purpose, and passion we could accomplish things that did not seem possible. I know it seems amazing that a public school teacher from a tiny town could beat out 30,000 entrants from larger schools with more talent and higher budgets to work with, but if you've spent time Kent and his students, amazing is expected.